Phone: (716) 816-4230
Fax: (716) 888-7145
186 East North Street
Buffalo, NY 14204
Map & Directions
News
Breaking News: Fosdick Street Becomes One Way
Posted on September 7th, 2017
Wednesday, September 6, 2017 marked the debut of a new traffic pattern on Fosdick Street. It is now one way starting at North Street and heading north to Best Street.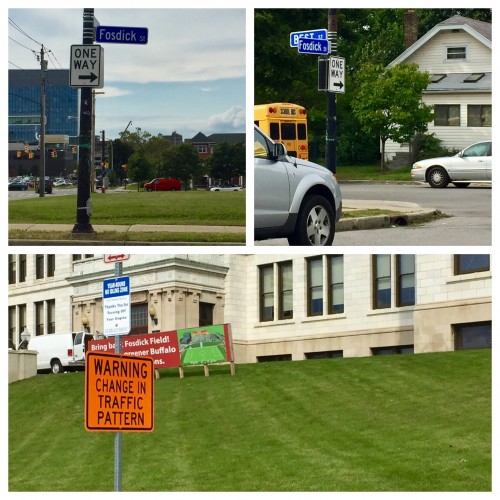 There are additional traffic patterns that have been modified with relation to the start and end of the school day at City Honors School. Specifically:

-At the end of the school day, all yellow busses will now be lined up along Masten Avenue and along North Street so that we can load and dismiss all middle school students and students with special needs at once. As our school has grown over the past few years, we have increasingly needed to have yellow busses in a "wait line" on the other side of Best Street. This arrangement delayed the return home of many students and created the need for movement of busses while students waited. The new yellow bus arrangement should correct this situation.

-End-of-day metro bus specials will be moved to Fosdick Street to allow yellow busses to access our North Street curb.
-Please note that all parent drop-off in the mornings must be on Fosdick Street. Masten Avenue is a yellow bus drop-off lane and entry to the service parking lot. Please do not attempt to use Masten as a drop-off as this creates an unsafe situation for our students. The Masten Avenue atrium entrance is for the use of students coming off of Metro busses at Masten and Best.
-Please use patience and caution at all times when driving near the school campus.
-We will continue to monitor and adjust our traffic patterns to maximize student safety. In years to come, we expect the future annexation of Fosdick Field and restoring our full original campus will provide us with the additional curb space needed to further improve traffic flow and safety.